The
fastest

and most

comfortable


way to straighten teeth
Invisalign has been used to treat over 13 million patients and Clear Smiles Alaska has treated over 2000,
more than any other office in Alaska!

Invisalign

offers a superior alternative to braces
Invisalign is clear and practically invisible, so nothing gets in the way of your new smile. No wonder Invisalign is the choice of over 13 million people!
Alaska's
Leading
Invisalign
Provider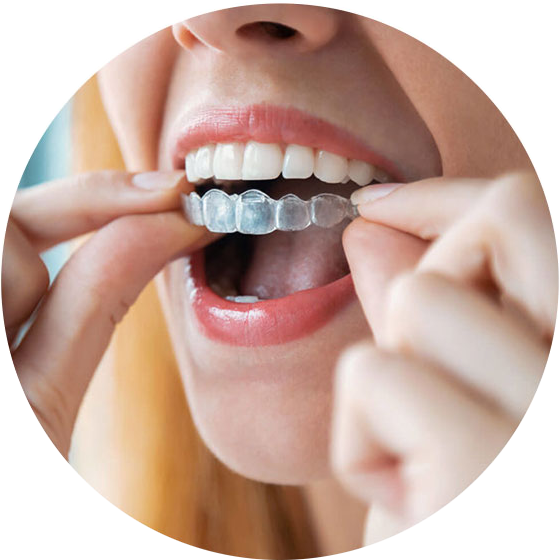 Alaska's
Leading
Invisalign
Provider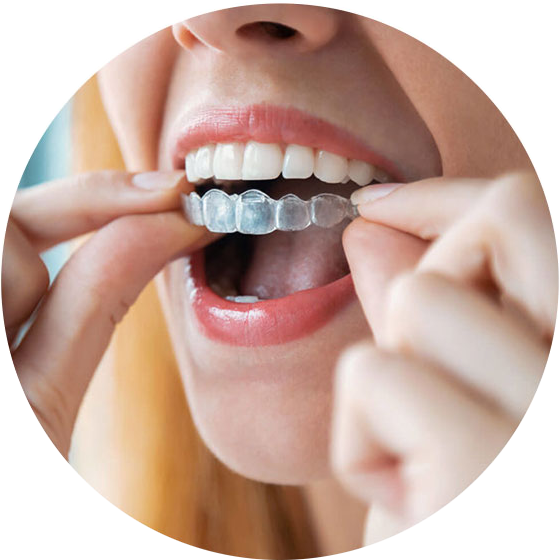 Invisalign made it possible for me to get my teeth straightened as an adult because I would not have done it if I would have had to wear braces. The whole process was easy with little discomfort and I'm very happy with the results. The staff at Clear Smiles Alaska are friendly and professional. I would not hesitate to recommend them to anyone interested in improving their smile. Keep up the good work!
– Jayne, Invisalign Patient
I love the personal experience you receive at this office. The staff at Clear Smiles Alaska remember everything about their patients and they are easy to have a conversation with. I never felt like I was going to an dentist appointment – it felt more like visiting close friends or family every time.
– Michaela Thomassen, Invisalign Patient
I'm pleased with my outcome and with the experience. Appreciated staff's friendliness and professionalism. Appreciated the efficient way I always got in and out during my appointments. Liked the text appointment reminders. Overall a good experience.
– Linda Lord-Jenkins, Invisalign Patient
Good friends and family who have seen my old smile and my new one are so happy for me. They also say its amazing and that these are my own teeth! Thank you to the staff! I LOVE my new smile!
– Janet Burkevich, Invisalign Patient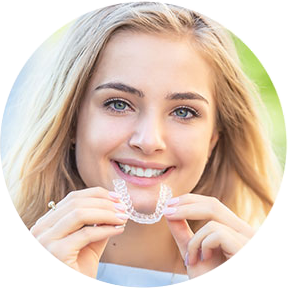 Frequently
Asked

Questions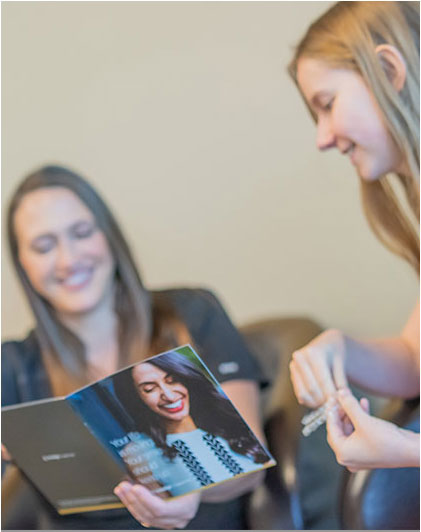 What is Invisalign®?
The Invisalign® system is the virtually invisible way to straighten your teeth and achieve the smile you've always dreamed of. Using advanced 3-D computer-imaging technology, Invisalign depicts your complete treatment plan, from the initial position of your teeth to the final desired position. Then a series of clear aligners are custom-made for your teeth – and your teeth only – to move them little by little. Each aligner is worn for about two weeks before being replaced by the next in the series, until the final position of your teeth is achieved. Your Invisalign treatment time will be determined by your doctor, based on your specific needs.
What are the primary benefits of Invisalign?
Invisalign aligners are practically clear. No one may even notice that you're wearing these virtually invisible "braces," making Invisalign a seamless fit with your lifestyle and day-to-day interactions with others.
Invisalign is removable. Unlike braces, you have the flexibility to eat and drink what you want during treatment by simply removing the aligners. And you can also remove the aligners to brush and floss as you normally would for fresh breath and good oral hygiene.
Unlike braces, there are no metal brackets or wires with the Invisalign system that could cause irritation to your mouth. Plus since your office visits during treatment don't involve metal or wire adjustments, you'll likely spend less time in the doctor's chair.
And finally, Invisalign allows you to view your virtual results and treatment plan before you start so you can see how your straight teeth will look when your treatment is complete.
How many patients are being treated with Invisalign?
More than 13,000,000 patients worldwide have been treated with Invisalign. The number of Invisalign smiles grows daily.
How will Invisalign effectively move my teeth?
Like brackets and arch wires are to braces, Invisalign aligners move teeth through the appropriate placement of controlled force on your teeth. The main difference is that Invisalign not only controls forces but also the timing of the force application. During each stage, only certain teeth are allowed to move. These movements are determined by your doctor as he or she maps out your unique Invisalign treatment plan.
What are aligners made of, and what do they look like?
The virtually invisible aligners, which are made of a thermoplastic material uniquely developed for the Invisalign treatment plan, look similar to tooth-whitening trays. Invisalign aligners are custom-made for you and only you to move your teeth in the sequence determined by your doctor.
Please fill up the form below to request an appointment. We'll get back to you asap.
Request An Appointment
"*" indicates required fields
Clear Smiles Alaska
3900 Arctic Blvd #103
Anchorage, AK 99503
Monday - Friday
8:00am - 5:00pm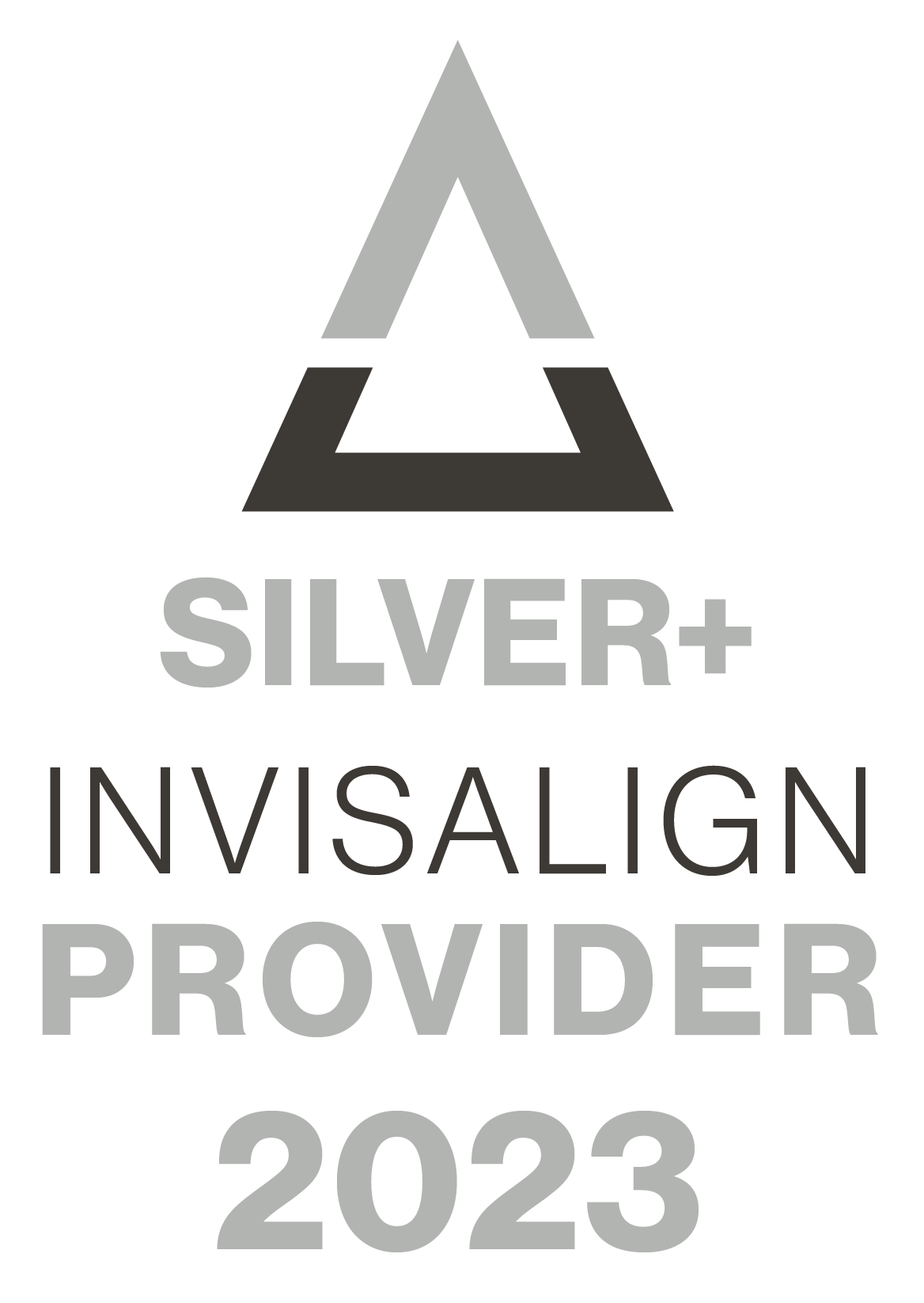 Copyright © 2023 Clear Smiles Alaska. All Rights Reserved. Powered by